I'm attending the OLC Innovate virtual conference this week and next. It's a fantastic conference for best practices and innovations in online learning, and because of the coronavirus, it is being held virtually this year. Which actually turns out to be great because I couldn't have attended if it was held in person.
I attended a session yesterday by Wendy Torres which included a lot of resources for accessibility. I will be covering a number of them in upcoming posts! 
In this post, I'm going to talk about Kapwing, specifically their Subtitler tool. They have many other tools which I may review as I have time to explore them.
One of the difficulties in providing access to students with hearing loss is captioning videos that you don't own. It's easy to caption your own videos in YouTube or on platforms such as Panopto. However, if an instructor is using a video they found online, it becomes much more difficult.  While YouTube can auto-generate captions, the accuracy is only 60-80% (depending on the quality of the recording, how clearly the speaker speaks, whether there are multiple speakers, background noise or music, etc.). And if it's not your video, you can't edit them.
In the past, I have used Amara.org, which is great tool for crowdsourcing captions, but has some limitations, such as the need to type in all of the captions from scratch. I'll cover Amara in a different post because it does have some great features.
Features
Kapwing Subtitler lets you upload your own video or type in the URL of an online video. Note that in the free version, your video must be less than 250 MB and 7 minutes long. With the Pro version, your video can be up to 1G and 40 minutes long.
In the editor, you can type your own subtitles, upload an existing .srt file, or auto-generate captions. Like all auto-caption features, be prepared to do some editing, but if your audio quality is good, starting with auto-captions can save a lot of time. Editing the auto-captions and adjusting the timing is very easy. You can also adjust a number of features, such as the font, font size and position.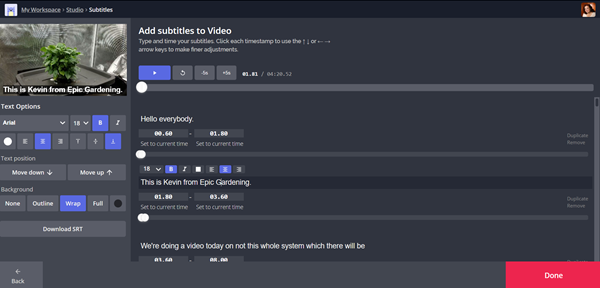 Once you have edited your captions and timing, you can download the .srt file if you have the Pro version. If not, you can download the entire video with open captions -- open captions are part of the video and cannot be turned on and off. You can also share the video on social media or embed it on a website or LMS. 
If you do not download the video, it is stored on Kapwing's servers. Be aware that with the free version, videos are only stored for 7 days, so you may be better off downloading the video then uploading it to your own servers or LMS. You are also limited to 3 hours of video per month with the free version.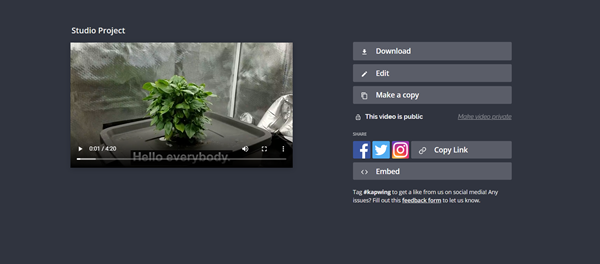 I'll also note that you can do a lot of other video edits, but I'm focusing just on the captions here.
Pricing
All of Kapwing's tools are free to use, but some features require the Pro version. As of the time of this post, the cost for the Pro version is $20 a month (cancel anytime) or $204 for a year ($17/mo). Kapwing has many, many other tools that look useful and the cost for the Pro version gets you all feaures on all of the tools, so the cost is really pretty reasonable if you use them often.
Pros
Can caption online videos you don't own
Easy to use
No watermarks on free or Pro versions
Free version is still very robust if you don't need it often
Can share link to editor so more than one person can edit
Cons
Creates open captions
Downloading .srt requires Pro version
Limited to 250MB and 7 minutes per video on free version, 1G and 40 minutes on Pro.
Bottom Line
I am very excited to add this to my accessibility toolbox. It makes adding captions to online videos you don't own very quick and easy. I might be able to convince faculty to do their own captions if it's this easy. I do wish downloading .srt files was available in the free version, but we can't expect people to keep creating great tools if they don't have any income, so I understand why that's a premium feature. 
My only concern is around copyright and EULAs. One of the advantages to a tool like Amara.org is that is doesn't move or copy the original video, it just provides a way to display captions for it. Copyright and accessibility often clash when creating captions for content you don't own. I'll address this in a future post, but if you'd like to talk about it before I get that written, just email me!
If you've used Kapwing or other captioning tools, please post your comments below. I'd love to learn from your experiences!
If you have a tool or topic you'd like to see me write about, email me or post it below.